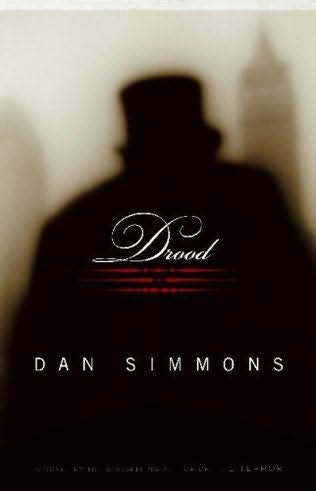 At over 700 pages, Drood by Dan Simmons, will turn into more than just a weekend read for me since I love to brunch and have fun. However, it was a spur of the moment move at the grocery store that I landed this books and I'm really delighted to read it. See if you can't understand why I had to grab it....
SUMMARY
On June 9, 1865, while traveling by train to London with his secret mistress, 53-year-old Charles Dickens--at the height of his powers and popularity, the most famous and successful novelist in the world and perhaps in the history of the world--hurtled into a disaster that changed his life forever.
Did Dickens begin living a dark double life after the accident? Were his nightly forays into the worst slums of London and his deepening obsession with corpses, crypts, murder, opium dens, the use of lime pits to dissolve bodies, and a hidden subterranean London mere research . . . or something more terrifying?
Just as he did in The Terror, Dan Simmons draws impeccably from history to create a gloriously engaging and terrifying narrative. Based on the historical details of Charles Dickens's life and narrated by Wilkie Collins (Dickens's friend, frequent collaborator, and Salieri-style secret rival), DROOD explores the still-unsolved mysteries of the famous author's last years and may provide the key to Dickens's final, unfinished work: The Mystery of Edwin Drood. Chilling, haunting, and utterly original, DROOD is Dan Simmons at his powerful best.
I'll update as the reading goes. I'm only about 30 pages off and I'm a bit worried that this is going to be an overwritten Victorian-style novel. We shall see...I try not to go bust on a book until page 100 or so. A great rule my mother helped to instigate in my reading life as a young adult. Thanks mom! Without that rule, I might have missed out on some awesome Classics.
Other Recommendations
Recently with my poor sleeping habits I've been sweeping through books. Here is a quick list of books that I've been meaning to read and finally did!
Impact was a fantastic read. I couldn't enough of it. What's not to love about exotic locations and lots of actions. If you're looking for a pure entertaining read that might make you ponder what is happening in the universe around us, then
Impact
is the book for you.
In all what kept me reading this book were the descriptions of the French countryside. It was the perfect escape to linger over the beauty of French vineyards, rustic provincial homes, marketplaces, and of course, every foodie, like me, loves to read about French foods and wines. My only discontent was that it seemed obvious to me that this was written by an older man that was a bit fond of the eternal bachelor hunting for ever yet younger ladies. The plot was also a bit out the window and a second thought. Read this book if you love France and wish you had a first class ticket to travel there by tonight. I've been meaning to get to other books by Peter Mayle, like
French Lessons: Adventures with Knife, Fork, and Corkscrew
, so this book didn't put me off enough to adventure through his other works. I think I wanted to read more French foodie books and there was one that I've really been meaning to get to...
I just finished Julie & Julia Project yesterday-imagine that! I loved her imagination descriptions and author's voice. I felt when reading this book that I was having a conversation with a best-friend or at times I felt like it was moi talking. If you skipped reading this book to avoid all that hype or, like me, you just hadn't had the time, then I totally recommend this book. I'm also looking forward to reading her latest book,
by Julie Powell Cleaving
. As I'm not a big fan of meat, this book is going on the backburner of things to check out.
Blog Weekend Read
In the hunt for good blog reading, I recently discovered
Capital A
. Its a lovely mix on style, design, celebrity fashion, and oh so yummy food.
Capital A is written by Abbey Watson, a D.C. girl that works by day as a media relations and online communications specialist and a night she is an explosion of creativity. She also recently posted an awesome recipe for
Devil's Food Cupcakes
. That is totally something for the weekend, yeah! Let me know what you read and did.
What are you going to read this weekend?