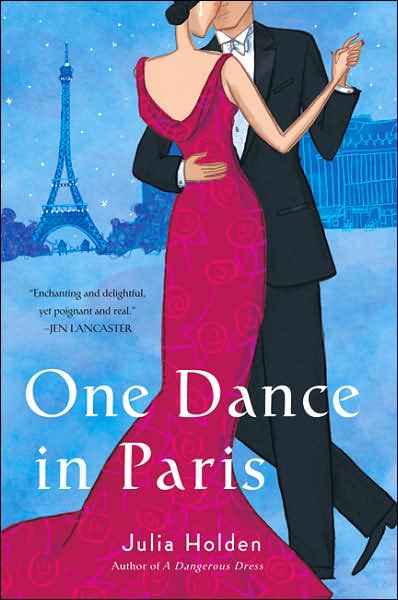 The Book

Sometimes, the less you're wearing, the more you're hiding…
Linda Stone is a tomboy waitress taking orders from snobbish Harvard students in Julia Holden's second novel ONE DANCE IN PARIS. She'll be the first to admit that her life is less than fabulous and that's before she gets caught arrested for riding in someone else's car. Her home life isn't much better with her distant father who never reveals a single word about her dead mother. However, everything changes the day that a mystery package arrives in the mail from Las Vegas that includes a picture of her mother dressed in a showgirl outfit. With Linda's father still choosing to be tight lipped about her mother's history, the package grabs her curiosity so intently that she dashes off to Vegas to find out what ever the truth might hold. Luck must be on Linda's side. People crawl out of the woodwork to tell Linda about her mother and the guarded family secret. Once she's deep into the family mystery, Linda has to make a choice between her aimless existences in Boston or being a seductive Sabrina-like woman that falls in love with a man she meets in Paris. Will Linda learn how to love her self and the man that puts everything on the line for her? The odds look good. But, you never know when you're talking about showgirls, the Folie Bergere, and dance acts only fit for the Moulin Rouge!
In glamorous show-stopping form, Julia Holden deftly tells the story of a woman who is search of her mother's history and her own identity. As bits and pieces of her mother's life begin to reveal glittering performances, Linda Stone and the reader begin to understand the importance of showgirls, dance, femininity, and sensuality. ONE DANCE IN PARIS is a magnificent book on the spirit of femininity, the art of seduction, and the power of women. Get inspired to follow Linda Stone on a journey from Boston to Paris. This book is so sweetly written that you might even be signed up for dancing classes by the end of the book. ONE DANCE IN PARIS proves that anything is possible, anything.
Meet Julia Holden
Or is it Julia Holden? Yes, Julia Holden is a pseudonym. Her biography states that she works in Hollywood and had been an executive at a major Hollywood Motion Picture Studio. The only thing that the reader can know for certain is that this lovely talented writer is likes hot tropical climates, since she admits to a recent location to Hawaii, and that she is deeply devoted to travel, fashion, and drinking good wines, the evidence is in the writing. So, consider yourself lucky! You're about to get an insider's look into the world of Julia Holden...
1. Linda Stone, the heroine of your second novel, ONE DANCE IN PARIS, discovers her own femininity through the discovery of her exceptional family history. How did you discover this tough-edged character and create the story of such a remarkable transformation?
From the start, I was concerned that Linda be nothing like Jane Stuart, the main character of my first novel, A DANGEROUS DRESS. The two books have some superficial similarities – both protagonists are launched on their journeys by discovering glamorous garments from their families' pasts – so I wanted to make sure the main characters were very different. Jane is sweet, breezy, funny, basically a good girl who gets caught up in a fabulous whirlwind and just hangs on for the ride. My publisher, my editor and I all wanted Linda to be someone very distinct, which led to her starting out her story with this angry, edgy attitude about the mother she never knew. She's certainly not a "good girl," when it comes to sex, or anything else. And she begins the book with just a dreadful self-image. Starting from there gave her enormous room to grow and evolve. By slowly discovering who her mother was, she gets to figure out who she is, too. And along the way, gradually, she starts to appreciate how special she herself really is. I adore the character, and it was really rewarding being able to help her find herself.
2. From Las Vegas showgirl costumes to shopping at Parisian department stores, Linda Stone manages to shop everywhere. How does fashion play into your story?
Now that you mention it, I guess there is a lot of shopping. That goes for my first book, too, so I suppose some of it is just a reflection of the fact that I love to shop.
But there's more to it than that. We all know the adage, "You are what you wear." Linda starts out wearing ugly T-shirts and skinny boy jeans because that's how she sees herself. As her self-image starts to improve, for the first time in her life, she begins to conceive of herself as attractive – and buying pretty things helps convince her that she really is pretty. But ultimately, I think the book turns into more a story of "You wear what you are." By the time Linda is ready to put on her mother's infamous, nearly naked "costume" from the Folies Bergere, she doesn't need to hide behind pretty clothes. She has figured out that SHE is fabulous, inside and out. I think that's why she's finally willing to confront the world wearing … well, almost nothing.
3. Your biography states that you've never taken a single writing class except one in high school that was taught by none other than Frank McCourt, author of Angela's Ashes. Were there any lessons that he taught that directly impacted your writing life?
I can think of at least four things I learned from him, two of which came from his class, and two later.
First, I remember very distinctly, he told us that to be a writer, YOU HAVE TO WRITE. That may sound obvious, but it's not. He urged us to write, as often as we could, and to be disciplined about it. Every cab driver in Los Angeles will tell you that he has a great idea for a screenplay. And maybe some of those ideas really are great. But until you sit down in front of a computer screen night after night wrestling with structure and dialogue and figuring out how the hell to fix your second act, you're not a writer, buddy. (That lesson came in very handy during the writing of ONE DANCE IN PARIS – see my answer to your next question!)
Second, he was a wonderful storyteller. He loved to talk, and there was a gorgeous music to everything that came out of his mouth. I think the lesson I learned was that, first and foremost, writing should be storytelling. Brilliant prose is great, but it's not enough. If a writer isn't telling a story her readers will care about, she's not doing her job.
Third is a lesson I learned from his success with ANGELA'S ASHES. That was his first book, and I think he was 65 years old when it was published. So he was a great inspiration to all of us who somehow didn't manage to become 20-something wunderkinds. My first novel wasn't published until I was (let's put this discretely) past 40, yet Frank's success made me feel like I was ahead of the game!
Finally, as a teacher, he was just the nicest man. He cared about his students. He wrote college recommendations for me, and for a lot of other kids. So his success was a nice object lesson that, at least once in a while, nice guys really do finish first.


4. What was your writing process like for this book? How long did it take for you to write it?
It's like they say on TV: Don't try this at home. There were a lot of things going on in my life at the time, personal and professional (meaning my day job), and I was incredibly pressed for time. But we had published A DANGEROUS DRESS at the start of July 2006, and my publisher wanted to keep the same release date for 2007. So I ended up writing ONE DANCE IN PARIS, evenings and weekends, in the space of two months flat. It was grueling. Exhausting. Insane. And exhilarating. Frankly, I suspect that the emotional intensity of the book derives from the intensity of writing it.
5. ONE DANCE IN PARIS is a beautiful blend of the glittering high-heel seductive shows like Folies Bergere. Do you think that showgirls, from Josepine Baker to the infamous dancers of the Moulin Rouge, continue to inspire our culture today? If so, why?
That's an interesting question. Yes, I think we continue to be influenced by showgirls – as evidenced, for example, by the success of the movie Moulin Rouge. (And if readers want my opinion of that movie, they'll have to read ONE DANCE IN PARIS!) I think we are intrigued and inspired by the power and perfection and sensuality of those figures. But the showgirls who influence us, as icons of style and sex, are all figures from the past. Sure, modern-day showgirls are still popular in Las Vegas, but they certainly aren't the iconic figures they once were.
That's probably because showgirls used to be considered extremely naughty and daring. When Josephine Baker danced in a costume made of bananas and not much else, she pretty much set Paris on fire. Nowadays, though, skin and sex are so commonplace, I'm not sure anybody would notice. I think old-time showgirls were a lot like old-time movie stars: they were so enthralling because there was still some mystery left. Today, thanks to bloggers and paparazzi and whatnot, we know way too much about our movie stars, and I think that makes them far less interesting.
Maybe there's still hope, though. Maybe someone will read ONE DANCE IN PARIS and be inspired to resurrect the Folies Bergere and find a headliner who'll be sexual and mysterious, and who can still make all of Paris burn. Now THAT'S a show I would pay to see.
Bonus Question!!!
If you could suddenly be graced with the talent to dance, what style of dance would you most like to perform and where would you like to perform?
That's easy.
I would be a member of the New York City Ballet, I would dance at Lincoln Center in New York, and, if I had my way, I would dance nothing but the amazing, perfect ballets choreographed by George Balanchine. Sigh. If only.
Which I guess is a giveaway of my intention, someday, in some shape or form, to write a ballet book. If I can't dance it, perhaps writing it will be the next best thing.
Modern Girl Style is looking forward to more work from Julia Holden - that much is certain!