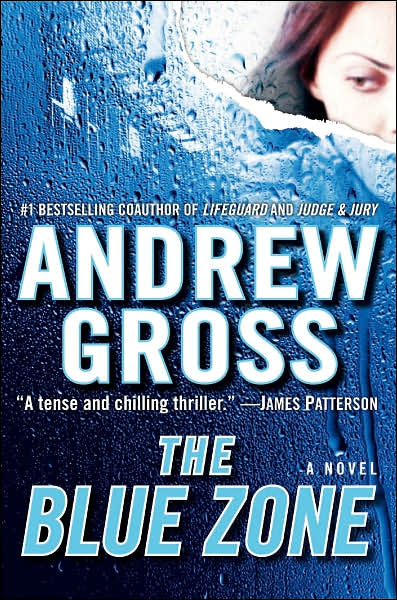 When life is too perfect, things have to shatter. In Andrew Gross's first solo debut, THE BLUE ZONE, Kate Raab had it all. She had the ideal family, an inspiring career, and the man of her dreams. In one fretful phone call everything splintered. Kate's father, Benjamin Raab, had been arrested by the FBI for money laundering, tax evasion, and racketeering with the Columbian Mercado drug cartel. Kate's father was a gold merchant not a member of a drug mafia. She blamed her father's arrest on the fantasy of undercover agents and conspiring business partners looking to save their own hides. The truth, Kate thought, would come out, her father would be set free, and she could return back to having it all. As the family comes together to rally support for their father, a man quietly sweeps into their wealthy suburban neighborhood and unloads a machine gun into their home in order to wake them to the truth.
A line had been crossed. Kate knew she'd never have a chance to go back to her old life. The Witness Protection Program immediately forces the Raab family into a new life. Kate makes a hard choice to stay with the only man she has ever loved. Life seems to smooth out for the next year until disastrous things begin to happen that revolves around her family. Can Kate trust her father? Is someone trying to kill her? Will she ever return back to a normal life? As chaos reigns, Kate learns of a family vendetta that runs deeper than blood. Now, can she learn the rest of the truth before it kills her.
Andrew Gross, co-author of seven novels with James Patterson, has got plot twists and killer pacing that causes every page to flip. The buzz of FBI codes, Witness Protection jargon, and medical-speak feels well researched and authentic. In his three book deal with HarperCollins imprint William Morris, Gross is an author who delivers on mystery and thrills. I suggest that you grab a copy of THE BLUE ZONE because Gross is going to be big author with tons of hit thrillers. Can't wait to get the book, download the first chapters now. Download BLUE_ZONE.excerpt.doc
The Interview


Andrew Gross is a man of big risk and thrills. Before he co-authored seven novels with James Patterson, Andrew received an MBA from Columbia and briefly went into the family clothing business. After that he took a turn as the President of HEAD ski and tennis as well as working at the ultra hip French clothing line, Le Coq Sportif. Wow! So, um.., how does a guy go from being the President of a major trend setting sports company to writing novels? Passion. Not only is Andrew Gross a man of risk but, he is a man of heart. When confronted on what was the single most important factor of a huge career change like his, without any sign of any hesitation in his wording, he shouts to the world: A supportive wife! He goes on to talk about the adoration of his family including three very successful kids. And perhaps that is the big secret that everyone can learn from Andrew Gross: Follow your passion, love your family, love your work, and life will be glorious!
1. Modern Girl did her research & found out that THE BLUE ZONE was inspired by having dinner with an obnoxious, rich, Ferrari-driving guy that was later arrested by the FBI for money laundering. What was it like having dinner with a real crook?
Actually, a lot of our friends are crooks. We find they're the only people we can get to the house. (Well, not really.) Not so far from the truth though. In business organizations, we've met a lot of people, CEO-types, some pretty well known, who've faced indictments due to (what's a nice way to phrase it...) securities issues. In the case of Blue Zone, I used a type who was familiar to me. Successful, prosperous, admired, someone who seemingly has everything—whose life suddenly tumbles in a nanosecond. I was more interested in the story of the person left behind, in this case, his daughter, Kate—who has to deal with the shame, betrayal, etc, than following someone conventionally into the Witness Protection Program, which has been done before.
2. Is it true that your first solo book was bought based on an outline? Yeah or nay, was THE BLUE ZONE an easy book for you write?
Yes, I got a three book deal with HarperCollins based entirely on an outline. But keep in mind I'd been completing a book a year for six years with James Patterson, In fact, Patterson heavily outlines all his books prior to writing. Eighty to a hundred chapters, including the dialogue, punch lines, twists and turns, etc. So my outline read like a novel. In fact, the HarperCollins people said it was the most detailed treatment of a book they had ever read. So, yes, BZ was easy to write from there. Like a road map. One chapter a day. It's a technique I think people can borrow and benefit from.
3. How do you write a book that's impossible to put down? Is it merely the mechanics of pace, plot twists, suspense, etc or do you have a secret modus operandi that you might share?
Well, I think three things are key: One, pace. Which means you strip the story down to its driving dynamics and cut heavily anything that interferes. Short chapters, each ending with a lead in to the next. The prose has to be stripped down too.
Two, A detailed plot. Lots of unexpected surprises—so the readers is not only not sure what will happen next, but is not certain anyone in the story is sacred. In Book Three of the Womens Murder Club with Patterson (Third Degree we killed off one of the most admired and loved characters. In BZ, someone dear to the reader is killed too. This "distrust" so to speak, keeps them turning.
And 3, create a main character that readers LOVE! Critics love irony and growth, readers love to becomes crucially invested in from the opening pages. Easier said than done of course. Humor, self-deprecation, overcoming adversity—a inner struggle. They all go to make someone human and believable and not ordinary. When a reader cares about a character—put them in danger and you have them hooked!
4. How does it feel to have the Women's Murder Club Series with James Patterson turned into an ABC mini-series? When you write do you ever think about how the novel might translate to film or television?
Well, I take some pride in it that I helped create the characters and the series, but I have no "interest" in the ABC pilot. To my knowledge, they merely took the existing characters and created their own stories. Patterson and I did, however, years ago, sell the first three books of the series (that I worked on) to NBC. Only First To Die was made. Horrible TV movie. But 16 million people watched. (And it paid well!)
5. Can you provide a glimpse into your next book?
Sure. It's a tentatively entitled Aftermath (I like—publisher's not sure). It takes place in Greenwich, Ct, and is about a rogue hedge fund manager who suddenly disappears and all these unsavory things (a ala BZ) begin to happen to his wife and family, underscoring that there was a lot more to who he was than he had let on to his family. It's a bit steamier than BZ—as the wife takes up with a detective to find the truth and some sparks fly. A bit more like Judge and Jury with Patterson, if anyone read that. I'm pretty sure the pages will fly just like BZ and readers will find t a good followup.
Bonus Question!!!
You have stated in other interviews that rejection was the best thing that happened to you. What can you say to other writers & artists that are dealing with rejections?
Well, what I meant was my particular "rejection" was the best thing—of a still unpublished novel—because it founds its way into Patterson's hands and my career took off from there. Dealing with rejection—in art and life—is one of the toughest things. My only advice is that it starts with one's own belief in themselves. What's inside. This industry has a reflex bias towards rejection. It's always easy to say "no" as opposed to "yes." It's easy to say yes after other people have said yes. My grandfather, a very successful woman's apparel guy used to say, "This industry is full of people who are scared to sell selling to people who are scared to buy!" And he was right, Therefore, don't let the bias towards saying "no" destroy one's belief in themselves. On the other hand, (and this is key) one needs to have an objective and unbiased conception of just how good your own product is. Don't let friends and family give you an inflated impression of what you have to sell. False belief is as bad as no belief. And I used to go at making my manuscripts better (taking no account any comments received) the same day I received it back. An hour of sulking-- then improve it! Never threw it in the desk drawer. Perseverance. Hope that helps!