At the moment, I'm feeling a bit sick, and I've been going through a phase where I haven't been posting as much. What's going on in my head? Well...I'm tired of just posting pictures of pretty rooms. I want my blog to be more. I want to generate more original content. Maybe I'm just having a style crisis. However, I must be on my way to resolve this because I did watch this video of Carla Bruni singing her hit song Quelqu'un m'a Dit and I felt so much better, not just from the cold I'm fighting. I felt that spark of passion and the desire to share with people. Isn't that why people love to blog? It's the love to share!
Carla Bruni, international model and now married to the prime minister of France, at the age of 24 told reporters that she'd never sing because she didn't want to be mediocre. I'm so thrilled that she overcame that fear and gave the world her voice. Her soothing French songs are just lovely. Isn't there a lesson for all of us in her journey?
A quick video into her process as a writer and singer. In this video you get a glimpse into her intelligent creative thoughts, but you can also see a tough inner critic. She doesn't compare herself to just other songwriters, but to poets in general. She has tough standards and raises the bar for herself when it comes to writing songs.
Carla is such a fashion icon as well. She has a timeless style, a simplicity, that isn't associated with one sort of label or designer. She manages to takes anything, like a t-shirt and a guitar, and make it into a work of art.
An intimate look at Carla with husband Nicolas Sarkozy, prime minster of France.
Carla arrives to meet the Queen of England. That might be a tough outfit to pick. She does so brilliantly.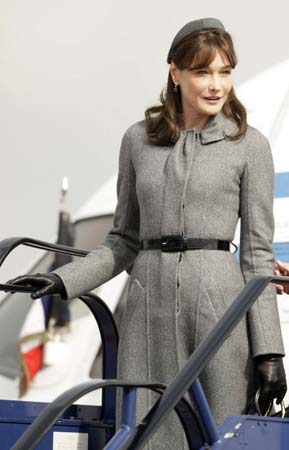 More outfits that Carla picked for her trip to England
Her formal attire is dazzling!
Her photo with the Queen.
Okay...maybe I like pretty pictures!
One last song by Carla...something to dance and dream to....