Sometimes all it takes is discovering one picture of a new place to set the intrigue. As I was reading a great post at
Eat.Live.Shop
I saw the awesome room above, shot at the
The Tides South Beach
, and I knew I had to go. The Tides is considered the Diva of South Beach and I think I agree.
The rooms are fit for any diva! The subtle use of vintage glamour and local Miami color influences is genius. Isn't that fabric orange headboard perfect? Just a pop of clear color in a very warm toned room brings all the furniture elements together. The bathrooms are just as lavish.
Need to escape to the pool? Okay...you're going to die in luxe heaven!
Champagne, please!!! Time to stop by the ultra chic bar!
Or maybe just you want to grab a bite to eat...
Okay...ticket, sunglasses, bathing suit, and an unlimited credit card are all the things I need to pack!
Mr. and Mrs. Smith
have interviewed the designer of this sweet hotel, none other than Kelly Wearstler, so check it out
here
!
One more suggestion for a perfect stay...ask if a Tides Royale martini can be waiting for you on arrival!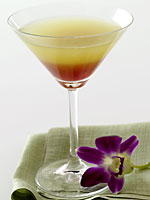 Now that's living the life like a diva!! Want to bring the The Tides home? Recreate this martini from their bar, and, ahem, it's
under 200 calories
so no need to sweat the bikini thing!
Ingredients:
2 ounces coconut-flavored rum
1 ounce Midori
3 ounces pineapple juice
1 tablespoon Chambord
Edible flower (optional)
Instructions:
1. Combine rum, Midori, and pineapple juice in a shaker with ice.
2. Shake and strain into two chilled glasses.
3. Add 1⁄2 tablespoon Chambord (it will sink to the bottom) to each glass. Garnish, if desired. (Makes 2 165-calorie servings)