In the world of new products, furniture, homes, and everything else made in China, sometimes it's wonderful to connect with things that have history. The price of history tends to be quite high, check the auctions at Christine's or Sotheby's, but emerging as trend in home design is the use of reclaimed wood.
As old barns, wharfs, industrial buildings, and vintage outdated buildings are being ripped down for new suburbs or new buildings, some people got smart and took measures to save these valuable pieces of material. You can reclaim wood for floors and have the most beautiful one-of-kind floors. I love the gashes and textures of vintage floors.
Why not a reclaimed bed?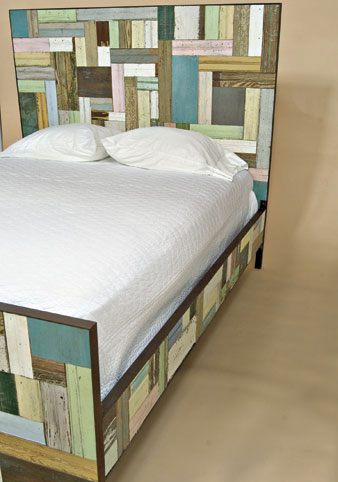 Why not make your space a bit more architectural with reclaimed wood?
The sky is the limit! Image a modern bathroom with salvaged wood...
If you even happen to stumble across just a few planks of wood, you can fashion a few hip table at a fraction of the cost. Instructables has got the design plans
here
.
Not feeling crafty? Check out some of these other wonderful uses to inspire your eco-chic taste.
I also love the look of reclaimed wood frames.
The uses are endless. You can reclaim wood for large projects like replacing floors and walls, or you can use reclaim wood for the smallest home accessories like picture frames or pencil holders. The appeal is goes with the grain of being green in this trash cluttered age!